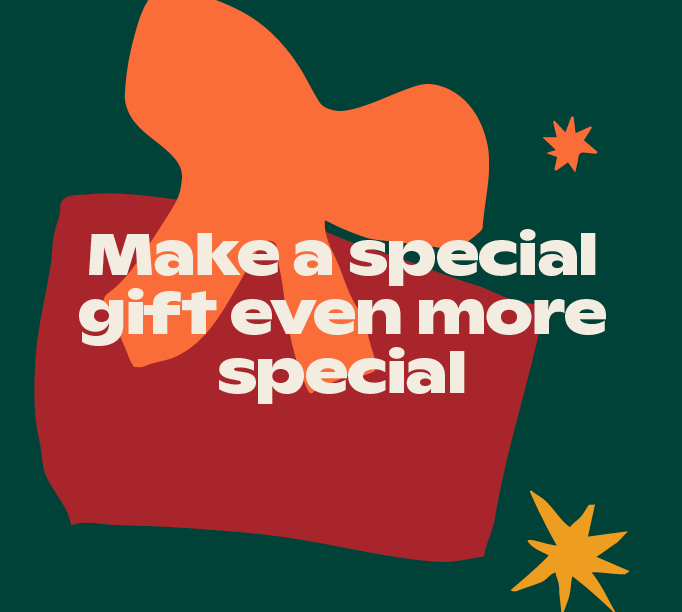 Community Gift Wrapping Service
11 December, 2021-24 December, 2021
Support local this Christmas, and have your gifts wrapped in designs created by Australian artists!
Gift wrapping service is available from the 11th - 24th December
Located near Williams Shoes
All funds raised will go to The Ocean Grove Evening View Club to support The Smith Family. Find out more about The Smith Family HERE

Meet The Artists

Anna Egberts, VIC
Anna lives surrounded by beautiful regional bushland in Victoria and works with acrylic paints and the occasional gold leaf for that extra special touch. Her design is all about coming together this festive season and enjoying our amazing Australian landscape
Mali Isabel, SA
An Arabana and Kokatha artist, living and practicing on Kaurna Land, Mali creates contemporary dot paintings using all colours of the rainbow to spread her message of positivity and equality. Her gift wrapping is inspired by her own spiritual journey and the impact it's had on her.
Grant and Jason, NSW Central Coast
Central Coast artistic duo, Grant and Jason have collaborated to create an abstract and contemporary Christmas design. Practised in acrylics and detailed ink , both draw their inspiration from the natural world around them.
Charlie Matta, NSW Sydney
Experience ranging from comic book illustration, charcoal, watercolour to digital, Charlie loves the challenge of using different mediums. As the artist behind the Watermelon Dog mural on Bondi Sea Wall, her inspiration comes from her immense love of animals.
Darren Blanch, NSW Central Coast
Self taught, visually impaired digital artist from Dubbo, Darren has commissioned artworks nationally and internationally. His gift wrapping is inspired by the typical Aussie Chrissy, sun low on the horizon, thongs in a heap, and backyard cricket played by all.
Simone Atkinson, W.A.
Simone is an indigenous Australian dot painter belonging to the Nyikina Mangala & Jabirr Jabirr Tribes in the Kimberley. Her art is contemporary, vibrant and intricate, and is inspired by the Pindan soil, the green mangroves and the Broome coastline.
Grace Vuetaki, NSW Newcastle
Grace is a multi-disciplinary artist who enjoys creating abstract art, murals, fabric and pattern designs as well as portraits. Her gift wrapping is inspired by Fijian Australian upbringing on the vibrant coast of NSW and her passion for nature and conservation.
Sam Pettigrew, Queensland
Sam works predominantly with ceramics and lino print, thoroughly enjoying the process, sequence and rhythm they provide. Living on Bribie island in Queensland, she is no stranger to the humble seagull, With nature often inspiring her artwork.